Conservatories
Rejuvenate your living area with a beautiful & bright conservatory
Buy now, pay later
Interest free finance
Google 4.9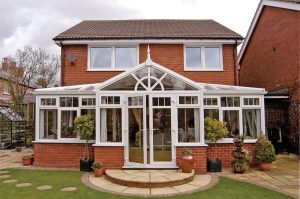 Orangeries & Conservatories
Are you running out of room and looking at different ways to create some much-needed extra space? Let us introduce our stylish and affordable range of conservatories and orangeries.
Built to your specification and budget, each will fill your home with light whilst adding another room to the house. Plus, thanks to advancements in manufacturing techniques, your property will feel cosy during winter and cool during summer. 
Your room for all seasons will be weatherproofed, energy-efficient, and secure. Did we mention the comprehensive guarantee we offer for your total peace of mind? 
Bring your home to life with a conservatory, why wait?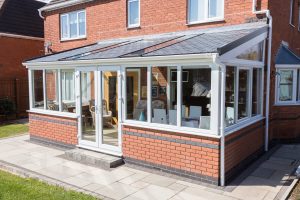 Create more space for your growing family
As time moves on, the needs of your family changes. Your children may demand more privacy. Others may come to live with you too. As adults, you will find yourself in need of your own space too. A conservatory functions as a diverse space that could be used by anyone and for almost anything at any time.
Need some fresh ideas?
Download our brochure and take a look at our stunning collection of conservatories. You'll be able to find everything you need inside to make an informed decision, thanks to our simple explanations and clear photos.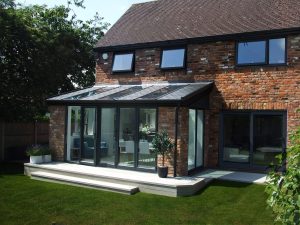 Find a conservatory that complements the character of your property
Your conservatory should enhance the character of your property. With so many styles available, we can cater to both modern and classic tastes. Explore our range of doors, windows, and roofs — then customise them by choosing your preferred colour, hardware, accessories, and much more. Let's work together to find a conservatory that's right for you.
Common questions
Is it uPVC or PVCu?
Both forms of expression are used online by tradespeople and companies alike. This invites a question: which of these is correct? Surprisingly, both are. uPVC stands for unplasticised Vinyl Chloride. In the UK, until the 1980s, this shortened form of expression was common. However, it was later standardised for European use. 
It's acceptable to refer to this plastic as uPVC in the UK. But it's useful to know that it might be referred to as PVCu too. Either way, our uPVC conservatories (or should that be PVCu conservatories) deserve a closer look. 
Is it worth getting a conservatory?
If you want to add more space to your home, a conservatory is a must-have. You won't even need to apply for planning permission from your local authority (which can be a slow and laborious process). 
The additional square footage gained can be used for virtually anything: a new study, living area, lounge, or play area for the kids. There are no limits. Share your plans with us and we'll find a solution that works.
Are conservatories cheaper than extensions?
A conservatory will be cheaper, provided it's built to the same spec as an extension. More materials are needed to build a house extension, and the process takes longer too. These factors combine to increase the overall cost of the project.
Conservatories mostly consist of glass and an aluminium or uPVC frame. This cuts down on installation time and costs too. 
Neither one is better than the other. It comes down to a matter of personal taste and the size of your home improvement budget.
Do you need planning permission for a conservatory?
In the vast majority of cases, planning consent is not needed. Conservatories are viewed by local authorities as permissible developments. This means you shouldn't encounter too much red tape when putting in your application.
Should permission be needed, we will tell you which steps to follow and answer any questions you might have throughout the process.
For conservatory prices, use our free quoting tool. If you have a question, please contact us — we'd be happy to help.
0% APR representative on orders over £3,000
We have various low-cost finance options available. Get a quick quote and apply for finance at the same time.