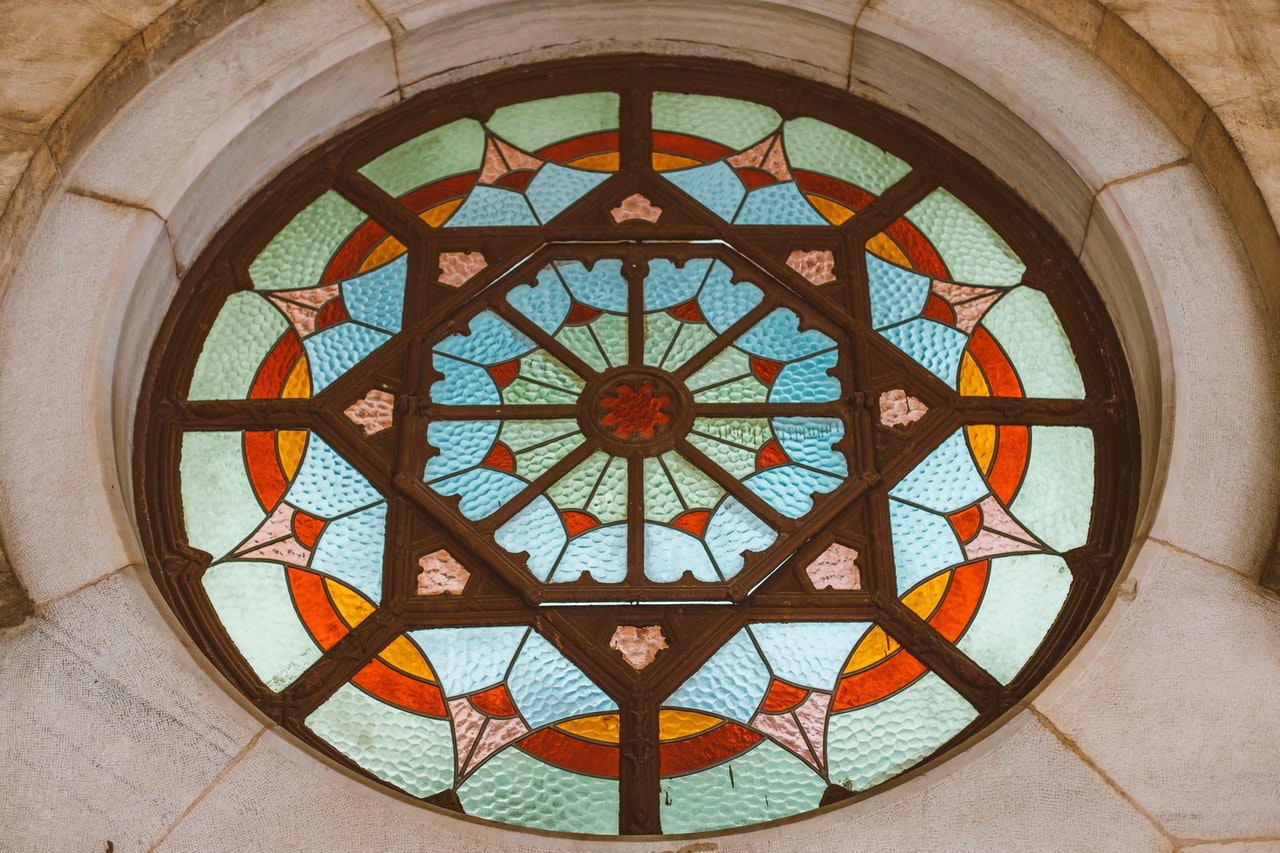 Everything you need to know about stained glass windows
Stained glass windows are common fixtures in churches and cathedrals, but did you know you can also get them installed in your home? Sure, they're less common than your standard Casement or Tilt and Turn windows, but take a walk around your local area and you'll notice some stained glass here and there.
Whether stained glass is an original feature of a property or newly installed, it's a great way to add a bit of character and charm to your home. 
Interested in using stained glass to make a statement in your property? In this article, we'll explore the history of stained and leaded glass and how to incorporate it into your home.
What is stained glass?
Stained glass windows are vibrant, often intricate windows made from coloured glass panes. As the glass pieces are outlined by lead stripes, designers can position them in complex arrangements to form images and patterns. Light passes through stained glass to illuminate the images, transforming them into a mesmerising array of bright colours.
With stained glass making an appearance in many old buildings and places of worship, it's no surprise that it has a long, rich history dating back to the 7th century. You'll often find huge stained glass panes scaling the walls of historic buildings, depicting a variety of religious and symbolic scenes. 
Wherever you travel around the world, you'll be able to see some gorgeous examples. The Cathedral of Brasilia in Brasil, Aachen Cathedral in Germany, and the Nasir al-Mulk Mosque in Iran are a few of our favourites.
Some people use 'stained glass' as a catch-all phrase to describe domestic leadlight and came glasswork. However, it's actually one of many distinct glasswork types.
What's the difference between leaded and stained glass windows?
This is a great question, and one that often causes confusion!
While the terms 'leaded' and 'stained glass' tend to be used interchangeably, leaded and stained glass windows aren't the same thing.
Stained glass is leaded glass because it contains lead to hold the stained panes together. However, leaded glass doesn't have to include any coloured (or stained) panes. 'Leaded' is usually used instead of the 'stained' glass to convey that there is no colour in the window. Only assume that colour is involved if someone specifically says 'stained glass'.
Leaded glass may not contain colour, but it can still  make an excellent decorative feature. It comes in textured designs such as waterglass, glue chip, iced granite, and chord, making it just as versatile as its stained counterpart.
Can you get modern stained glass windows?
As stained glass became popular in secular spaces during the 19th century, there are lots of original stained glass features in homes around the UK. Just visit an area with lots of Victorian housing, such as Heaton Moor in the North West of England, and you'll see that most homes on the same street are adorned with similar stained glass motifs, either in the front door or front windows.
We've found that lots of homeowners are keen to install new stained glass windows after seeing some original examples. Who wouldn't want to boost their kerb appeal with such a beautiful feature? Luckily, there's no reason why you can't fit your modern home with stained, leaded, bevelled, or Georgian bars to create a striking aesthetic.
Front doors with stained glass windows
Stained glass is meant to be eye-catching, so your front door is the ideal place to install it. Make it the first thing that visitors and prospective buyers notice as they approach your home. Better there than tucked around the back!
Plus, stained glass is a fantastic way to let light into your hallway whilst protecting your privacy. In this way, it even improves the feel of your interior as you'll get to enjoy a brighter space.
Other places to put stained glass in your home
You don't have to install stained glass in your front door. Here are some other places we've added stained glass for our clients:
In an ordinary window —  if you have an old window waiting to be replaced, seize the opportunity to add some personality with stained glass.

In window corners — if you fancy some colour but don't want a full stained window, consider getting stained glass window borders. 

Above a window — clear windows are great for letting as much light as possible into a room. But this doesn't mean you can't enjoy a stained glass detail! Add a stained strip above your existing window.

In your new extension — before you finalise plans for your extension, ask your provider if they can install a small window feature within one of the glass walls or a circular roof light.

In your bathroom or cellar — for rooms that demand greater privacy, stained or leaded glass can obscure the view inside from onlookers. Consider uPVC stained glass windows or leaded glass instead of fogged panes.
Remember, as long as an installer can add stained or leaded glass, there are no 'wrong' ways to use it in your home.
New Windows
At New Windows, we offer custom made decorative glass panes. If you're ready to add stained glass to your home, give us a call. We can chat through your ideas and come up with the perfect plan for your stained feature.
To see some examples of our windows, why not visit our Warminster showroom or browse our online brochures?